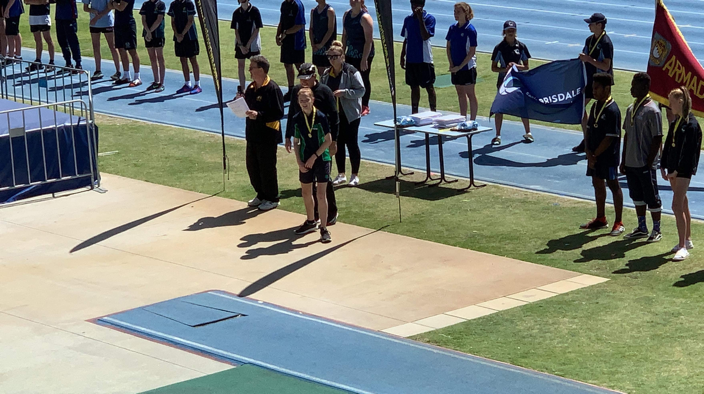 Friday the 19th of October saw a group of 31 students and 3 staff members represent Clarkson at the 2018 State School WA Inter-School Athletics competition. This gave our students a fantastic opportunity to test themselves against some very promising young talented athletes as well as shine a light onto our school. They achieved both admirably.
We ended the day in 4th place, which was our best placing in the last 3 years and, if not for some administrative errors, we could have cracked the top 3!
Massive congratulations to Yr 9 student Sarah Webb (pictured). Sarah ended the day with the Year 9 Champion Girl. Individual acknowledgement is also due to Hayleigh Woodley (Yr 8), Michael Fouweather-Woods (Yr 9) and Isabella Quinn Medley (Yr10), who finished 3rd in the champions of their respective divisions. Overall a very successful day for CCHS.
Thank you to Mr Nathan Benn, Mr Alex Coe and Ms Robin Ferris for their attendance on the day. Until next year!
Dr Yes
Running at school for the Year 9 and 10 students who weren't at the carnival was an incursion by Dr Yes. Dr Yes specialise in providing Health Education talks to adolescents. The Year 9 students receive an intriguing talk about Drugs and Alcohol whilst the Year 10s received a thought provoking talk about sex education. The feedback from students and staff was that it was a very interesting hour. A big thank you to Dr Yes for coming in to talk to us.