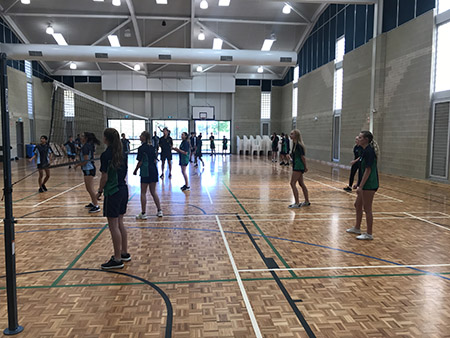 On Wednesday the 13th of November 18 brave Year 9 students ventured north on a grueling trip to Butler College to challenge them in two epic volleyball matches.
After minimal warm-up time the Year 9 girls and boys were underway in their respective matches. The girls got off to a flyer and found themselves 10 points up in the early stages of the first set before Butler clicked into gear and brought the score back to a thrilling 26-24 first set, which fell the way of Clarkson. The teams then swapped sides and, with the help of a run of good serves, Butler managed to sew up the second set leaving the scores locked at 1-1. Finding themselves five points down early in the 3rd and final set, the Clarkson girls rallied together and found a way to win by 3 points (25-22).
Over on the other court the boys started their game with a few nerves and were left wondering at end of the first set losing 25-15. With the game on the line here in the second set and a pep talk from experienced coach Mr Coe, the boys strung together some seriously good passes to set up some incredible hits and walk away with a 10 point win themselves in the second set (25-15). Similar to the girls, the boys were locked at one set all. It didn't all go to plan in the early stages of the third set for the boys as Butler took a commanding lead (20-11). Enter Coach Coe! A strategic time-out call and a motivational talk was all the team needed to find the inspiration and desperation to claw the score back and win 26-24 in the final set.
The Clarkson volleyball teams remain undefeated and were able to ride the bus all the way back to school with winning smiles on their faces. An unbelievable effort by all including the support staff, Mr Mooney and Mr Benn, and the supporters who came along. We greatly appreciate all of your help and look forward to our next fixture.
Girls team: Emmilee Davies, Sarah Webb, Isobella Birchall, Rehanna Eades, Bianca Hammond, Andiya Paul, Aimee Hatfield, Ahleya Bartlett, Ezra Hati
Boys team: Nathan Thompson, Christian Barry, Khyle Polancos, Justin Sovan, Jarvis Archer, Jasper Miles, Alexander McLellan, Michael Foulweather-Woods, Jeremy Mounsey