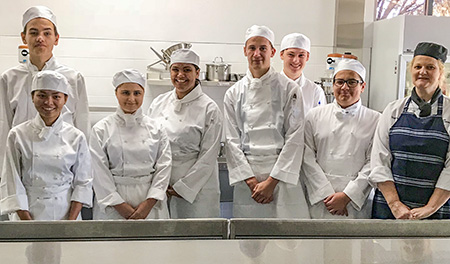 The school would like to welcome our new VET trainer Claire Rowley who is a qualified Chef of 30 years industry experience including 5-star Hilton hotels around the world.
During Claire's many years in the Hospitality industry she opened The Globe Restaurant with Chef Cheong Liew from the Grand Hilton Adelaide, as well as being Executive Head Chef at Joondalup Resort Hotel where a Gold Plate was awarded to Claire and her team.
Claire has been training students in Certificate II and Certificate III Hospitality at North Metro TAFE in Joondalup for the past 4 years. As part of her role she won many gold medals in several Australian Culinary Federation competitions including World Skills, Nestle Cookery and the National Apprentice Competition.
Clarkson Community High School is very fortunate to have this opportunity to work with North Metro TAFE Joondalup to offer such an incredible experience for our students. Students are enrolled in a Kitchen Operations Certificate II, which is designed to have 13 units of competency to meet industry standards. Within the time-frame students can also complete half of a Certificate III in Hospitality. The course includes a school-based training in our fantastic commercial kitchen facility as well as work experience component that provides and opportunity to learn and showcase their newfound skills and knowledge in a real industry setting. As a result the course provides students the skills and experience to enter the hospitality industry for future employment or to complete further studies.
We wish Claire and her students every success!