At Clarkson Community High School we have always aimed to be a technology-focused school with some of the best resources in the state school system. These resources include our school laptop program, media facilities, 3D printers, laser cutter, photographic equipment and of course the school drones to name just a few, but lets not forget our web services too!
You may not know this but we have several websites in addition to our public site. These include a staff portal, our in-house learning management system for students (Moodle), online booking systems for physical resources like rooms, computer labs and school buses and online booking system for parent evenings. 
All of these websites are hosted on-site and designed and maintained by our ICT staff. Recently, we undertook major server upgrades to ensure our sites are secure, current, reliable and fast.
We decided to take this opportunity to produce new versions of our public and staff websites that are optimised for mobile devices. No more zooming in and out or squinting, our websites now perform like apps on any smartphone or tablet with easy to read pages.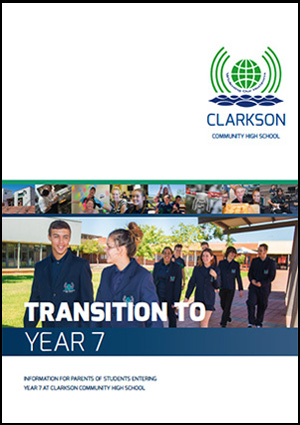 The latest Clarkson Year 7 Transition Prospectus is now available to download for prospective parents.
This document outlines everything a new student to Clarkson would need to know, including information on pastoral care, learning ideology, facilities, technology and school life in general
You will need Adobe Acrobat Reader to view the file.
Since the release of the first Clarkson CHS Learning Journey document in March 2011, a number of conditions have changed which impact the school. However, the overall vision that encompasses decision making processes has not changed, as it is founded on what Clarkson CHS's Senior Leadership Team believe are fundamental truths about working with people in an educational setting.
To download the latest Learning Journey 2 document please visit this link