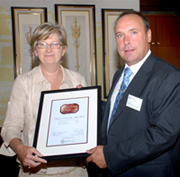 In 2010 and 2008, CCHS was awarded a TOP PUBLIC SCHOOL AWARD by Dr Elizabeth Constable, Minister for Education.
In 2007 CCHS won a PRIME MINISTER'S AWARD for THE SHED. The Shed is a purpose-built facility that delivers building and construction training to young people in the Brighton/Clarkson region.
Through pre-apprenticeships and on-site community involvement, it aims to increase job opportunities for local youth whilst addressing the current industry skills shortage. It offers:
* Pre-apprenticeship programs
* Practical involvement in community projects
* Job placements and careers information
* Mentoring program
* Enterprise training
* Life skills training
The Brighton Estate Joint Venture (BEJV) has undertaken partnership arrangements with West Coast Institute of Training, Satterley Property Group and Clarkson Community High School.
The 2008 DUX of CCHS was a recipient of TEE Curriculum Council Certificate of Excellence, the UWA Fogarty Award and the distinction award for TEE English. Other students were recipients of the Vocational Excellence Award and West Scheme Vocational and Training Award. The CCHS soccer program team made it to the 2009 state championships and the team were runners up for WA.
As a learning institution at the centre of a thriving community, the school recognises that the participation of the greater community enriches all learning opportunities. Clarkson has strong links with West Coast Institute of Technology in Joondalup, Edith Cowan University and a broad range of employers who provide structured-workplace learning opportunities. The school embraces the concept of a shared resource by encouraging community access to school facilities. Currently TRADESNORTH Clarkson is being built on the school site at a cost of $21.6 million. This will provide a state of the art facility for trades training.
TRADESNORTH will be complemented by a fully-equipped commercial kitchen and alfresco restaurant currently under construction at a cost of $713,000. CCHS will also be the lead school applying for significant funding on behalf of neighbouring state and non-government schools for the Federal Government Trade Training Centre grant with an anticipated six to ten million dollar further investment on the school site.
CCHS is involved in various mentoring and volunteer programs that enhance student teacher relationships. There is particular value and encouragement for the relationship between the school and senior members of the community through involvement with local retirement villages. In addition, the school has very successful Cadet Units run by members of the local community: State Emergency Services and Bush Rangers. The School has developed links with the West Perth Rotary Club.
The ethos underpinning all aspects of structure and organisation in the school (the CODE OF CONDUCT) is that of CARE: Cooperation And Respect for Everyone. At Clarkson we work towards building strong interpersonal relationships between students and teachers - founded on trust, respect and responsibility.
Please click here to view the new CARE policy.